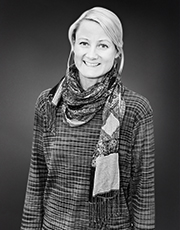 Johanna Henriksson is a freelance photographer and writer based in Stockholm, Sweden. Her main focus is on photographic assignments for organizations and magazines.
In parallel with the shorter assignments Johanna engage in long term photographic documentary and arts projects. With a passion for all kinds of storytelling, not only visual, she also writes with great pleasure and on occasion films and edit video.
Holding a Master of Science with a major in Biology her favourite photographic subjects are environmental issues, sustainable development and science.
Johanna studied photography at the Nordic School of Photography Biskops Arnö, Konstfack / College of Arts, Crafts and Design and journalism at Poppius School of journalism.
More about Johanna you find here .
Please get in touch;
Mail: johanna@johannahenriksson.com Mobile: +46 (0)70 400 25 07
Publications, a selection
Affärsvärlden, SvD, News Magazine Fokus, OmVärlden, Hufvudstadsbladet, Der Spiegel, Bild DE, Sydsvenskan, Lärartidningen, NVP, Parnass, Dagens Arbete, Tidningen Chef, DN, Chefstidningen, Norrbottens kuriren, Tidningen Djurskyddet, Amelia.
A selection of other customers
The Swedish Public Employment Service (Arbetsförmedlingen), Magma, FORES, Timbro, Volvo Buses, Getinge, The Norwegian Medical Association, TCO, Folkuniversitetet, Theaterverlag Hofmann-Paul, Swedish national public television SVT.
September 2022: Johanna's photographs were nominated in the category Culture and Sports Reportage of the Year by the Swedish trade association for free newspapers. She was nominated together with the newspaper NVP's writing reporter.
Johanna has photographed for the book "Ingen ska ha samma helvete som jag" by author Carina Järvenhag. The book was published in april 2022 by the Swedish Bleeding Disorder Society.
Johanna has photographed for the book "Inte en kroppsspråksbok" by author Gabriella Lockwall. The book was published by the publisher Idus. Buy the book here
Some of Johannas work concerning climate change, water issues and sustainable development, both text and photography, go to articles here and here